Hits: 1233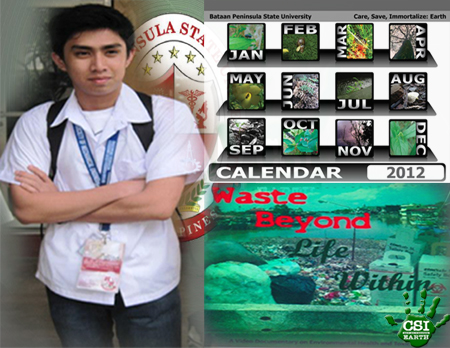 The Bataan Peninsula State University once again proved its competence and excellence through its student organizations and student achievers. Care, Save, Immortalize: Earth, an environment-oriented and accredited student organization, earned two awards in the First National Student Quill Awards through Dan William C. Martinez, incumbent vice president of the organization and editor-in-chief of the student publication.
The awards will be given to two materials produced by the student org namely: CSI: Earth 2012 Calendar under the Communication Creative category, and Waste Beyond, Life Within: A Documentary on Toxicology under the Audio-Visual category. Martinez with the supervision of Jonna M. Abistado, organization's adviser, headed the conceptualization and production of the materials, and submitted the materials with included work plans as entries in the national contest.

The International Association of Business Communicators sponsored the awards and launched the contest in various colleges and universities in the country. The award-giving organization commends and recognizes the students and their institutions for effective communication works in six different categories.
The awarding ceremony will be on November 12 at the Crowne Plaza Galleria Manila in Quezon City.