Hits: 585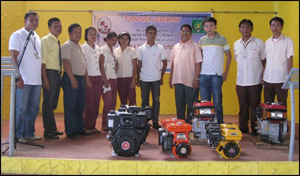 Two (2) units KENBO OHV Gasoline Engine model, 2 units MIYATA Gasoline Engine model MY20, 2 units KAMA Air-cooled Diesel Engine model KM170F, and 2 units SWAN Water-cooled Diesel Engine model TF80NL were donated by Super Trade Enterprises to the BPSU Abucay Campus for the further enhancement of the latter's laboratory facilities.
The need for the laboratory equipment has long been recognized by the faculty in the said campus as they pursue the strengthening of Agricultural programs. To address this need, BPSU forged a linkage with Super Trade Enterprises during the Annual Convention of the Philippine Society of Agricultural Engineers (PSAE) at the Benguet State University. Present during the MOA signing were BPSU President Dr. Delfin O. Magpantay and Super Trade Enterprises Manager Mr. Ryan Oliver Lim and Regional Manager Engr. Julius Michael Basangan.
The agricultural equipment were turned over to BPSU on 01 July 2010 at the BPSU Abucay Campus. Abucay Campus Director Mr. Herminio L. Miguel, faculty, staff, and students witnessed the event. The newly donated equipment are perceived to ensure the advancement of the knowledge of students on the operation and maintenance of different agricultural machinery used in the propagation of crops and livestock.