Hits: 1191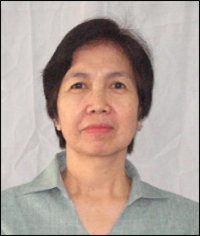 Dr. Felicisima V. Olaya, Dean of the College of Arts and Sciences (CAS) was accredited as Professor I by the Philippine Association of State Universities and Colleges Region 3 (PASUC 3) last August 20, 2010 at Philippine-Sino Center for Agricultural Technology in Central Luzon State University (CLSU), Muñoz, Nueva Ecija.
Her Service Record
Dr. Olaya is the first faculty of the University to be granted with professorship status. A graduate of Bachelor of Science in Mathematics from the University of the Philippines Diliman, she rose from the ranks as Secondary School Teacher, Junior College Instructor, Instructor II, Associate Professor II, Associate Professor III and recently Professor I. She earned her master's degree and doctorate in Mathematics Education from Centro Escolar University in Manila in the years 1984 and 2003, respectively.
Aside from handling classroom instruction, she has also handled positions in the administration as Vocational Instruction Supervisor III of the then Bataan National School of Arts and Trades (now the Main Campus) and head of the Institute of Arts and Sciences (1) of the then Bataan Polytechnic State College. When BPSC was converted into a university, she was designated dean of CAS.
In an interview with Dr. Olaya, the dean told she felt honored for being granted with the professorship status. "Proud ako kasi historic nga ito (professorship), being the first in the University," she said.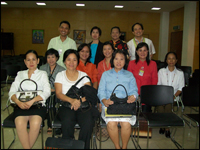 The Process
The professorial accreditation is a process by which faculty members of state universities and colleges (SUCs) are subjected to paper and panel evaluation. The paper evaluation is based on the print out of National Budget Circular 461 (NBC 461) or the rules and regulations governing the position classification for SUCs faculty. After being ranked professor I based on NBC 461, the faculty shall undergo a two-set panel interview.
Dr. Olaya recalled the process. According to her, there were two sets of panel. The first panel is composed on SUC presidents from region 3 and another composed of experts in the discipline. She was interviewed by the presidents of CLSU, Nueva Ecija University of Science and Technology and Pampanga Agricultural College. A one-man panel composed of Dr. Rene R. Bellecina from Philippine Normal University served as Dr. Olaya's final interview session.

Eleven (11) other candidates came from CLSU and one from Bulacan Agricultural State College.