Hits: 1708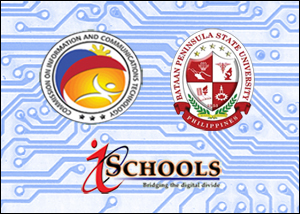 BPSU President Delfin O. Magpantay signed four memoranda of agreement (MOA) with the Commission on Information and Communications Technology Human Capital Development Group (CICT-HCDG) last September 17, 2010 as the third leg of the iSchools Project implementation moves on. The MOAs include the conduct of trainings for Central Luzon's public high schools (PHS) granted with iSchools project package. Deployment of computers and other ICT equipment in various regions around the country is currently on-going. Trainings will start after the ICT equipments have been distributed to the recipient schools.
In October, the University will host the Sustainability Planning Workshop (SPW) for principals, Parent-Teacher Association (PTA) presidents and local government officials of the recipient schools. Some 146 stakeholders are expected to convene and draft a plan for the sustenance of the operation of iSchools laboratory deployed in the PHS.

Would-be managers of iSchools laboratory will also undergo training. Among the MOAs signed by President Magpantay is the conduct of Laboratory Management Training for those who will pass the qualifying examination to be given by CICT-HCDG. The training aims to equip teachers with technical knowledge and skills on the operation and maintenance of the laboratory.

A library system developed by Laguna University named Anilag is included in iSchools package. The university will also host the training of school librarians on the installation and use of the said system.

The MOAs also include the conduct of Computer and Internet Literacy Course (CILC) to 20 teachers per school. This training aims to equip teachers with knowledge, skills and attitudes on the use of ICT as a tool for teaching their respective subject areas.

Resource persons, laboratory assistants and facilitators for these trainings will come from BPSU and other state universities and colleges in Region 3 which are also implementing the iSchools Project. They are: Bulacan Agricultural State College, Don Honorio Ventura Technological State University, Pampanga Agricultural College, Tarlac College of Agriculture and Tarlac State University.