Hits: 1763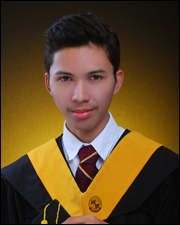 Mister Alvin Policher Perdio, a graduate of Bachelor of Science in Accountancy placed second among the 8216 examinees who took the Licensure Examination for Certified Public Accountant (CPA) given last October.
The 20-year-old CPA hailed from the town of Abucay and is a son to Miguel Perdio and Consuelo Policher. Mr. Perdio consistently brought feat to the University even during his student years in the College of Business and Accountancy.
Among his historic victory was winning the Philippine National Statistics Quiz where he bested other competitors from leading universities in the country including University of the Philippines and Ateneo de Manila University. Aside from this, he also won several quiz shows in the regional and national levels.
Along with the landing of Mr. Perdio in the top 2 spot are twenty three (23) new CPAs produced by the University.They include:
Abuzman, Maricris Lanuza
Alera, Allyses Izon
Annap, Celina Torres
Cabico, Jobelle Lopez
Capuli, Jayjay dela Cruz
Corpuz, Sheea Quijoc
Elvambuena, Marjorie Padua
Estioko, Mylene Viloria
Fajardo, Hannah Victoria Tolentino
Macaspac, Juliet Salenga
Manalili, Lenie Cruz
Mandocdoc, Honeylet Mangulabnan
Mutuc, Michiko Reyes
Paway, Nina Marie Delizo
Rendora, Zyra Badillo
Rosete, Ruby Rose Flores
Sanggalang, Juvy Barrentos
Sanggalang, Rina Romero
Sarmiento, Jan Michael Tongco
Semillano, Idy Arante
Ugay, Mercy Lyn Coronel
Vicente, Andlly Ponce
Francisco, Remuel Mendoza
The oath taking ceremony of the successful examinees in the said examination as well as the previous ones who have not taken their Oath of Professional will be held before the Board on Friday, November 26, 2010 at 1:00 o'clock in the afternoon at the Plenary Hall of the Philippine International Convention Center (PICC), Roxas Boulevard, Pasay City.