Hits: 1789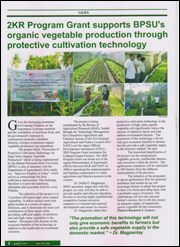 Given the increasing awareness level among Filipinos on the importance of proper nutrition and the availability of nutritious food, and the government's response to continuously promote a healthier lifestyle, a project to promote organic vegetable production was earmarked.
The project titled, "Promotion of Protective Cultivation Technology for High Value Organic Vegetable Production" which is being implemented by the Bataan Peninsula State University (BPSU) is also in harmony with the Department of Agriculture's (DA) battle cry, "Sapat na Pagkain sa Lahat" which serves as a benchmark for food sufficiency and security. The challenge therefore is to provide nutritious, affordable and accessible food for every Filipino.
The objective of the project is to 1) produce off-season high value organic vegetables, 2) utilize animal waste and plant residue as a source of organic fertilizers, and 3) determine the least cost combination of farm inputs while providing sufficient supply of nutritious and safe high value vegetables in the market. The project also focuses on the economic benefits of the technology in addition to the health and environmental concerns.

The project is being coordinated by the Bureau of Agricultural Research (BAR), funded through the Technology Management for Competitive Agriculture and Fisheries Sectors of the DA-National Agricultural and Fishery Council (DA-NAFC) and the Japan Official Development Assistance's (ODA) - 2KR Program Grant Assistance for Underprivileged Farmers. The 2KR Program Grant was borne out of the signed Memorandum of Agreement (MOA) between BAR and NAFC in 2008 to spearhead the implementation and funding collaboration of viable agriculture and fisheries projects in the country.

Dr. Delfin O. Magpantay, BPSU president, hopes that with this project, not only will they be able to provide quality and relevant education, but also to develop highly qualified and competitive human resources responsive to national and regional development and ensure its success.

Dr. Magpantay added that, protective cultivation technology in the production of high-value organic vegetable will significantly reduce the amount of chemical inputs and help address environment hazards. "The promotion of this technology will not only give economic benefits to farmers but, also provide a safe vegetable supply in the domestic market," he said.

The immediate beneficiaries of the project are the marginalized vegetable growers, smallholder farmers, and consumers within the district. The agribusiness enterprise will be replicated in 100 farmers from the different municipalities of the province.

The initiative of the proponent to tap an agribusiness firm for technical assistance and market-tie up will encourage farmers to adopt this project in their own farms providing them with a profitable source of income. The undertaking will not only increase farmer's income, but it will also ensure an adequate supply of organically-grown vegetable for the community.

The article was written by Patrick Raymond A. Lesaca for BAR Chronicles. For more articles on agriculture you may visit them at BAR Online.