Hits: 840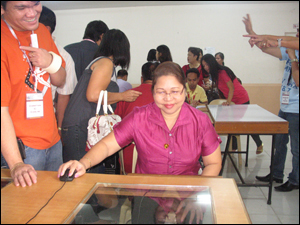 Miss Evelyn S. Tria, a faculty member from the College of Business and Accountancy was elected Federated President of BPSU Employees after garnering 409 votes in the University's first automated election, December 3, 2010. Unopposed, Ms. Tria surpassed the 50%+1 policy set by the Commission of Election (COMELEC) for unopposed candidates by having 89.24% of the votes cast in her favor.
The election was called for by virtue of Resolution No. 3 series of 2010-Suspension of FAsso Constitution and By-laws due to the Merger of Teaching and Non-Teaching Personnel Associations. The resolution is a move to come up with a single organization for teaching and non-teaching personnel.
Together with Ms. Tria, the following teaching and non-teaching personnel were elected unopposed: Mr. Eduardo Tinao, Vice President for Teaching Personnel (Main Campus), Mr. Pretimino Paguio Jr., Vice President for Non-Teaching Personnel (Main Campus), Mrs. Carina Batol, Vice President for Teaching Personnel (Balanga Campus), Mrs. Zoila M. Duque, Vice President for Teaching Personnel (Abucay Campus). Officers for the vacant posts in the association will be appointed by the Federated President.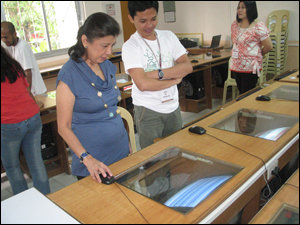 The software for the automated election system was developed by Mr. Emmanuel Masangcap, programmer from the Management Information Systems Office.
Winners were officially proclaimed by Mr. Medel de Guzman, COMELEC Chairman during the Faculty and Employees General Assembly held yesterday, December 6, at Crown Royale Hotel, City of Balanga, Bataan. In her speech Ms. Tria said: "I would not promise anything, but I can promise you my commitment of serving you. Dalaga ako, I poured out my time for 7 years and I can do it for another three. But I have one appeal to all of us. Remember the phrase in the Lord's prayer: Thy Kingdom come? My appeal is this: Let your kingdom go, so that His kingdom can come."