Hits: 624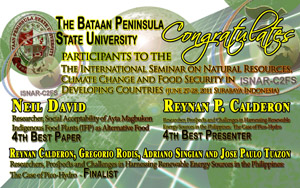 Four researchers from the University garnered awards during the International Seminar on Natural Resources, Climate Change, and Food Security (ISNAR-C2FS) held at Surabaya, East Java, Indonesia last June 27-28, 2011.
The research "Social Acceptability of Ayta Magbukon Indigenous Food Plants (IFP)" by Mr. Neil David, faculty from Abucay Campus, was awarded fourth Best Paper. Mister David is also the researcher behind the benchmark study on Ayta Magbukon Literary Arts. The Ayta Magbukon is a group of indigenous people in province of Bataan.
Likewise, Mr. Reynan P. Calderon, Science Research Specialist was awarded 4th Best Presenter for the research "Prospects and Challenges in Harnessing Renewable Energy Sources in the Philippines: The Case of Pico Hydro". Calderon's co-researchers include Dr. Gregorio J. Rodis and Mr. Jose Paulo Tuazon from BPSU and Mr. Adrian Singian, a faculty from Don Honorio Ventura Technological State University (DHVTSU). The same paper was also selected as finalist in the best paper category.

The Committee of ISNAR-C2FS promotes the nature conservation, and better understanding and interpretation on the relationship of the diverse components of the natural system, and to disseminate research and application among professionals interested in theory, methodology, and application in nature studies and provides a forum for the exchange of new ideas in nature studies.

The seminar was organized by the University of Pembangunan Nasional "Veteran" East Java, the Philippine Society for The Study of Nature, Inc. (PSSN)and the National Science and Technology Development Agency Center for Agricultural Biotechnology, Kasetsart University, Thailand.

Among the agenda of the University's Research and Development Office include the environmental advocacy and protection. (Photo courtesy of Mrs. Koni G. Cruz of RDO)
Watch the video on Youtube.