Hits: 1502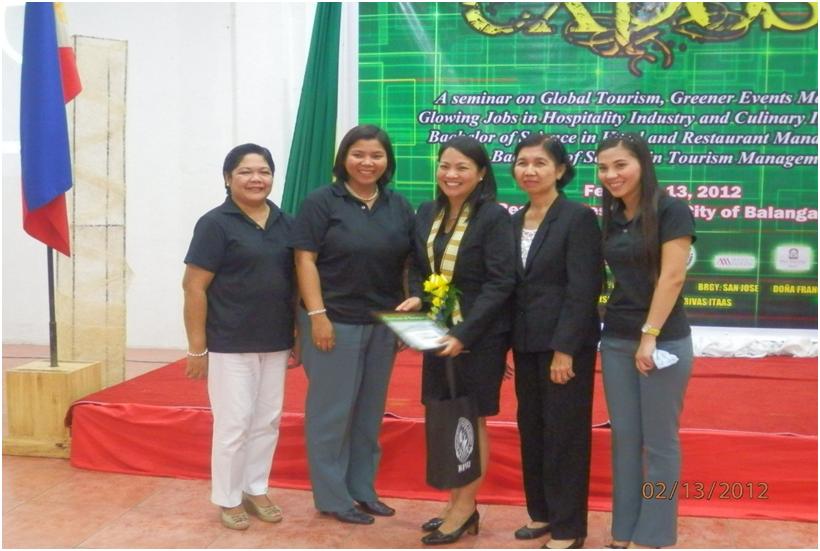 Fourth year Bachelor of Science in Hotel and Restaurant Management (BSHRM) students conducted an event entitled, "Expose: Seminar on Global Tourism, Glowing Job in Hospitality Industry, Greener Event Management and Culinary Innovation" at Lou-is Resort and Restaurant last February 13, 2012. A total of seven hundred HRM and Tourism Management students and faculty members from BPSU Main Campus, Orani Campus and Asia Pacific College of Advanced Studiesattended the event.Resource speakers from different business organizations graced the event. Talking on Culinary Innovation was Chef Allen Famugalan of GAP Plaza Hotel. Mr. Edison Rosales of Pan Pacific Hotel Manila shared on the topic Global Tourism and Glowing Job in the Hospitality Industry.
Speaking on Greener Event Management was Ms. Analissa Jardin, Manager and Head for Frontier Business Unit, Strategic Planning Department at the Bank of Tokyo-Mitsubishi, UFJ (Philippine Branch). Her experience on green management spans from organizing tree planting program to organizing events such as SuperCroc Event for FedEx in cooperation with the National Geographic in Thailand and Asia Formula 3 Races in Subic.
Part of the event was the testimonial of Ms. Katrina Pamela Alban, an alumna of Batch 2009, who was employed at Water Front Manila Pavilion Hotel and Casino. After 5 months of hard work and dedication, she was promoted from being Sales Coordinator to being Sales Account Manager.
The convention was sponsored by Bataan Governor Tet Garcia, Greenridge Purified Water, GIV Soap, Globe Telecom, Bobson, Color me Crazy, Barangays Poblacion, Talisay, Puerto Rivas Ibaba, San Jose, Puerto Rivas Itaas and Dona Francisca Subdivision.
University officials who also took part in the event were Dr. Felicisima V. Olaya, Dean of College and Arts and Sciences, Dr. Mercedes G. Sanchez, Vice President for Academic Affairs and Ms. Irene Gina Cruz, THRM Coordinator. Faculty members of the HRM and Tourism programs also attended the event.
The convention part of the students' requirements for the course HRMG – 413A (Events Management) by Mrs. Joanne D. Lobrino and HRMG – 413D (Human Resource in the Hospitality Industry) by Ms. Anne Regina R. Galicia. (report from College of Arts and Sciences)