Hits: 497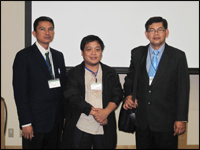 Mr. Reynan P. Calderon, Science and Research Specialist II, and Mr. Rudy C. Flores, BPSU Orani Campus Director attended the 5th International Symposium on Machinery and Mechatronics for Agricultural and Biosystems Engineering (ISMAB) at the Centennial Hall of Kyushu University in Fukuoka, Japan on April 5-7, 2010. This symposium was organized by the Japanese Society of Agricultural Machinery (JSAM) and aims to serve as venue for the exchange of ideas, scientific findings, and experiences in the fields of machinery and mechatronics for agricultural and biosystems engineering.
Several papers on subjects related to agricultural automation, biotechnology and biomechatronics were submitted by various educational institutions all over the world and fortunately the papers of Mr. Calderon and Mr. Flores, respectively entitled "Aerobic Rice Technology for Climate Change Mitigation and Increasing Food Production in the Philippines" and "Balog Balog Multi-Purpose Dam of the Philippines: For Continuing Development or Continuing Disaster" were among the ones chosen for presentation.
The conference commenced on 05 April 2010. The first day was spent on orienting participants on Japan's policies on food safety and the breakthroughs in agricultural technology. The participants were also introduced to the concept of precision agriculture which enables farmers in Japan to produce crops even under harsh weather conditions or even during the winter season through the utilization of energy efficient light emitting diodes (LED).
The presentation of papers was conducted on the second day of the event. With Mr. Flores' and Mr. Calderon's expertise in conducting and presenting researches, no questions were asked regarding the papers. Only the moderator asked a question only to clarify a certain aspect of the research. Tours to Iseki Corporation and Yakult Factory was done on the third day. From what they witnessed from the tour, the BPSU representatives commented that much still needs to be recognized in the Philippines so that its agriculture industry will flourish.
Aside from acquiring new insights on how to improve the agriculture industry in the Philippines, the participation of Mr. Flores and Mr. Calderon in the event also helped in promoting BPSU and its projects on agriculture. They also added that several participants expressed their enthusiasm to visit BPSU now that they are already aware that BPSU exists.