Hits: 522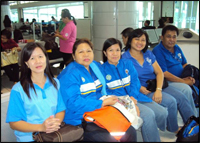 Administrative services administrators from the University's five campuses participated in the 2010 Regional Council of Personnel Officers (RCPO) Convention last August 4-6 at the Bohol Plaza Resort, Panglao Island, Dauis, Bohol. This year's theme is "Leveling-up Public Service Towards Excellence".
The said convention aimed for the promotion of awareness of the civil service laws and rules among government employees, improvement of the training methodologies used by HR practitioners, managing politics in the workplace and the development of recruitment, retention, recognition and rewards and retirement plan for the participants' respective agencies. The convention was highlighted by the presentation of the Roadmap for Development/Reform 2010-2015 of the Civil Service Commission (CSC) by Director Karin Litz P. Zerna of CSC Regional Office 3. The following are the strategic priorities of the Commission:
Exemplifying integrity and excellence in public service
Cultivating harmony, morale, and wellness in the workplace
Effective and efficient performance of quasi-judicial functions
Building partnerships and strengthening linkages
Managing support mechanism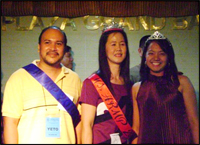 Director Zerna informed those present to look forward to CSC programs in the region in harmony with the priorities of the national CSC. Another highlight of the event which also showed the leveling up of BPSU HR administrators was the search for the Mr. and Ms. HRM Practitioner 2010 for Region 3. Ms. Betty S. Ignacio, associate director for administrative services of Orani Campus together with Mr. Loreto Palad of Balanga Water District, won the coveted titles. To add feathers to her cap, Ms. Ignacio was chosen Ms. Talent for her graceful execution of a Muslim dance.

BPSU delegation to the convention was led by Administrative Services Director Magdalena A. Abella. Associate directors from the satellite campuses who participated in the event include: Ms. Rubilita C. Diaz (Balanga), Ms. Betty Ignacio (Orani), Ms. Caroline E. Guevarra (Dinalupihan) and Mr. Fernando Gonzales (Abucay).