Hits: 1132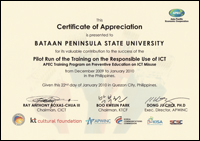 The year 2010 may have just reached its second half, but the efforts done by the University in the field of ICT continue to reap accolade.
Six local and international organizations awarded BPSU with a Certificate of Appreciation for hosting the Pilot Run of the Training on Responsible Use of ICT/APEC Training Program on Preventive Education on ICT Misuse conducted at the Orani Campus on January 18-20, 2010.
The Asia Pacific Economic Cooperation, Korea Cultural Foundation, Asia Pacific Women's Information Network Center, Korea Communications Commission, Korea internet and Security Agency, Commission on Information and Communications Technology and Svillupo Consulting Services Cooperative are the organizations which conferred the award.
The initiative stemmed out from the increasing cases of ICT misuse in various countries in the Asia-Pacific Region. Statistics show the alarming cases of ICT misuse ranging from pornography to cyber piracy, and other forms of cybercrimes. The need to educate stakeholders on these impending issues poses a great challenge for a country like the Philippines, where access to ICTs and the internet continue to reach people even to the grassroots level.
The training was participated in by 20 public elementary school teachers who are also full-time parents of the Orani district. Select iSchools Project's Computer and Internet Literacy Course (CILC) trainers served as resource persons during the training.
The resource persons were: Marife Carpio (Benguet State University), Rupitacio de Chavez Jr. (Batangas State University), Bernadette Lelina (Eastern Visayas State University), Lany Maceda (Bicol University), Maycibel Rodriguez (Western Mindanao State University), Lydia Pinili (Bataan Peninsula State University), Antonette Torres (CICT-HCDG), Mel Tan (CICT-HCDG), Estelle Shim (APWINC) and Tonichi Sanvictores (Project Consultant).