Hits: 1049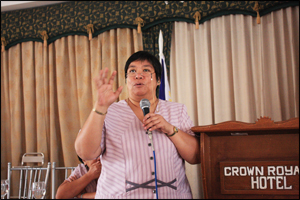 Miss Evelyn S. Tria, Faculty Association President of BPSU was re-elected for another term as president of the State Colleges and Universities Faculty Association in Region 3 (SCUFAR 3) last August 31, 2010 at Don Honorio Ventura Technological State University, Bacolor, Pampanga. The oath-taking of the organization's new set of officers will be held at Bulacan Agricultural State College on October 20 with Dr. Ruben Sevilleja, president of Central Luzon State University as inducting officer.
SCUFAR 3's Initiatives
During her term of office as SCUFAR 3 head, the association has undertaken several initiatives for the general welfare of SUCs faculty in the region. Among the initiatives include the First Regional Consultative Conference in March 2008, where issues and concerns affecting employees of SUCs in the region are discussed and brought to the attention of the proper authorities for action.
The association also lobbied for the inclusion of the SCUFAR 3 president as non-voting member of the Development Council of State Universities and Colleges in Region III (DC-SUC III), a policy-making body for region 3 SUCs.
The organization was also registered to Securities and Exchange Commission (SEC), acquired its tax identification number (TIN) and official receipt, thus giving it legal personality to transact with other persons or organizations. Also, the SCUFAR 3 is now recognized as a learned society, giving points to its members in the NBC 461 evaluation.
Regular monthly meetings are held in different SUCs to update the officers on the concerns of their respective constituents. Series of benchmarking study missions to select Southeast Asian universities were also conducted in June 2009 and 2010.

Future Plans
Asked about the organization's future plan, Ms. Tria hopes to have a second round of the Regional Consultative Conference and benchmarking study mission to other Southeast Asian universities. She also told of the organization's proposal to synchronize all SUCs 3's employees' benefits subject to the rate which shall be determined by the authorities concerned. The organization has been soliciting support of SUC presidents on this proposal.