Hits: 713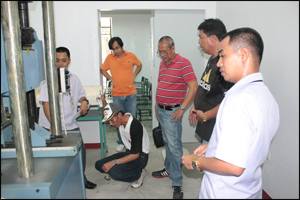 The College of Engineering and Architecture (CEA) and the College of Industrial Technology (CIT) acquired new set of equipment worth around P13million for instruction as well as research and IGP-purposes.
Engineer Rodrigo C. Muñoz Jr., CEA Dean said that the College acquired a universal testing machine (UTM), a global positioning system (GPS) gadget, a unit of compound DC motor and a set of pneumatics and controls. According to Engr. Muñoz, the UTM will be utilized by students enrolled in the mechanical engineering (ME), electronics and communications engineering (ECE) and electrical engineering (EE) programs for their material science course. The GPS will be used by ECE students for their microwave communication subject, civil engineering (CE) and architecture (Archi) students for their surveying subjects.
The compound DC motor was purchased in addition to the first set of equipment acquired through CHED grant. Students in EE, ECE and ME use the said equipment for subjects like motors and controls and energy conversion. Pneumatics and controls will be used by ME, EE and ECE students.

"The acquisition of these equipment is part of the plan ng CEA to strengthen the laboratory facilities and acquire as much as possible industrial type of equipment to cope up with the technology gap of the academe-industry scenario", explained Engr. Muñoz in an e-mail.

The CEA dean further added that if the university budget permits, the college is looking forward to having a laboratory set up for "applied physics" which is the foundation of almost all engineering courses and to further solidify the appreciation and understanding of CEA's junior students prior to their entry to majoring courses.

The College of Industrial Technology also acquired a state-of-the art lathe machine for its mechanical technology program. Two units of Numerical Control Lathe Machine were acquired for students majoring in machine shop technology under the Bachelor of Industrial Technology and Diploma of Engineering Technology programs.

Dean Edmundo Tungol said that CIT plans to purchase equipment for instrumentation and pneumatics for electronics and electrical technology majors, respectively.

The main campus considers engineering and technology as its flagship programs, owing to its background as technical school since 1953.