Hits: 619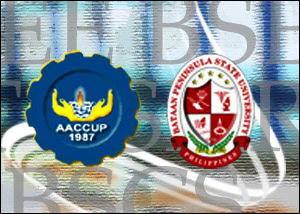 With its thrust to assure the quality of its curricular offerings, the University will subject eight (8) academic programs to accreditation process on December 7-9, 2010. Teams of accreditors from the Accrediting Agency of Chartered Colleges and Universities in the Philippines (AACCUP) will assess these programs based on a set of standards for institutions of higher learning. Programs in the Main Campus namely, Bachelor of Science in Hotel and Restaurant Management (BSHRM), Bachelor of Science in Information Technology (BSInfoTech) and Bachelor of Science in Computer Science (BSCS) will undergo Preliminary Survey Visit.
The Preliminary Survey Visit is a stage of accreditation where the program is evaluated for the first time by external accreditors. Passing the assessment entitles the program to be awarded a Candidate status valid for two (2) years.
On the other hand, five (5) academic programs namely civil engineering, electrical engineering, mechanical engineering, agriculture and secondary education (Abucay Campus) are scheduled for First Formal Survey Visit. After passing the said accreditation stage, Level I accreditation status valid for three years, will be awarded to the five programs.
The programs seeking for Level I accreditation have been granted with Candidate Status in 2009. Engineering programs in the Main Campus and agriculture and secondary education programs in Abucay Campus were evaluated on August and September 2009, respectively.
Deans and faculty members of the College of Arts and Sciences, College of Engineering and Architecture, College of Information and Communications Technology and Abucay Campus have been busy preparing their respective documents and exhibits for the coming accreditation.
The Office of the Vice President for Academic Affairs oversees the coordination of accreditation-related activities.
Accreditation of programs has been beneficial in assuring the quality of programs and services of state universities and colleges together with a host of other benefits such as but not limited to having competitive advantage in terms of fund sourcing, sound administrative decision-making, among others.