Hits: 1061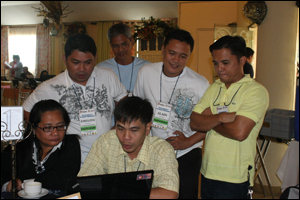 One hundred and thirty eight (138) stakeholders from forty-six (46) public high schools (PHS) in Central Luzon and some parts of Metro Manila convened in Bataan on November 22-25, 2010 for the 4-day iSchools Sustainability Planning Workshop (SPW) hosted by the Bataan Peninsula State University.The workshop is part of the iSchools Project of the Commission on Information and Communications Technology Human Capital Development Group (CICT-HCDG). School principals, ICT teachers and Parent Teacher Association presidents were equipped with knowledge, skills and attitude on how on maintain the operation of the laboratory even after the project turn over.
Environmental scanning, stakeholders analysis, sustainability concepts and principles and sustainability planning are the main topics of the workshop. Engineer Theody Sayco of Central Luzon State University, Mr. Geraldin dela Cruz of Tarlac College of Agriculture and Dr. Herminio Giron of Bulacan Agricultural State College served as resource persons. After each lecture session, CICT-certified facilitators assisted the participants during the workshop.
The iSchools Project, according to CICT-HCDG is not a project which only doles out ICT infrastructure. But more importantly, the project builds the capability of all stakeholders in the school and the community so that the benefits of ICT will be maximized.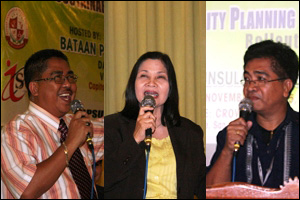 University President Dr. Delfin O. Magpantay told the participants during the opening program that BPSU takes the privilege of being the "Big Brother" to public high schools in the region. He mentioned that BPSU has been a partner of CICT-HCDG in implementing various ICT projects not only in Bataan but also in nearby provinces. Department of Education Regional ICT Coordinator Dr. Nestor Nuesca also graced the occasion by giving a message, emphasizing the crucial role of ICT in education. Also, Dr. Celia Nakpil, Assistant Schools Division Superintendent of Bataan welcomed and encouraged the participants to get all the possible learning they could acquire from the workshop. At the end of the workshop, the participants were able to come up with their respective sustainability plans which will be implemented in their respective schools. Collective declaration of commitment, stating the stakeholders' commitment to the project was also signed at the end of the workshop. Partner SUCs in the region which also cooperated in the conduct of the event are Bulacan Agricultural State College, Don Honorio Ventura Technological State University, Pampanga Agricultural College, Tarlac College of Agriculture and Tarlac State University.