Hits: 2562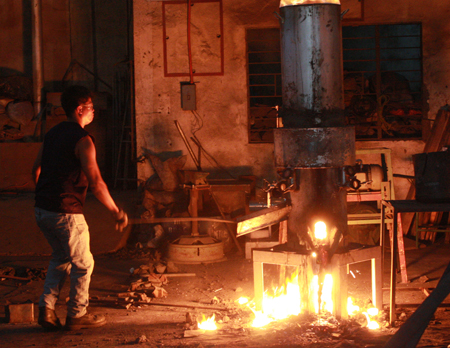 The University partnered with the Department of Science and Technology Metals Industry Research and Development Council (DOST-MIRDC) and Philippine Council for Industry and Energy Research and Development in strengthening the material science course of the engineering program. Last October 24, a team from MIRDC, led by Engr. Lemuel Apusaga visited the University's foundry workshop to document its actual operation. The team observed the use of the micro-cupola furnace, a device used for melting steel scrap, cast iron scrap, and ferroalloys to produce cast iron. Data gathered from the observation will be used by the team in formulating further recommendations for the project.
According to Engr. Apusaga, the country is in dire need of manpower in metals industry. However, enrollment in courses like foundry technology has been declining over the past years. Through the project, the engineer hopes to contribute in addressing this need. He expressed that by injecting topics on foundry technology in material science subjects of engineering programs, the students will have the needed knowledge and skills.

Engineer Rodrigo Muñoz Jr., Dean of the College of Engineering and Architecture and the University's lead person in the project also expressed optimism on the project. He further said that aside from the benefit in the area of instruction, the project is also seen to generate income from the project through the production of souvenir items.

The PCIERD will be BPSU's partner in the production of souvenir items. According to Engineer Muñoz, initial plans for the production include souvenir items related to each town of Bataan, like metal cast image of pawikan (sea turtle), for which the town of Morong is known for.

The University is one of the two universities in the country with an existing foundry technology workshop.

Formal launching of the project is slated this November 2012.